10 reasons why you should get ABC Seamless Gutters to do your job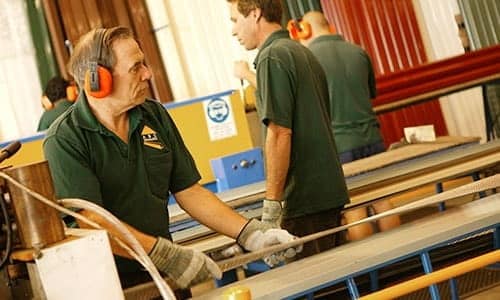 How long should ABC Seamless Aluminium Gutters last?
Our Aluminium Gutters should last at least 25 years. If they're well-maintained, they can last up to 30 or 40 years.
What are some of the benefits ABC Seamless Aluminium Ogee Gutters vs other gutters?
The benefits of Ogee Continuous Gutter versus "Stick" length Quad gutter are multifold.
The major benefit is that the continuous join-free Ogee gutter cannot leak at the joins. Each join is a potential weakness and over time, along with expansion and contraction of the gutter during hot and cold spells, these weak areas have a strong tendency to leak. Join-free reduces this weak link.
The Ogee gutter has a capacity 45% larger than the quad gutter, a great benefit, especially during Sydney's high rainfall months.
The pre-painted Ogee gutter is also manufactured in aluminium, which has superior properties to steel gutter. Aluminium cannot rust like steel quad gutter.
The 0.7mm Ogee aluminium gutter is also thicker than steel zincalume gutters (0.55mm) which allows the Ogee gutter to easily satisfy the Ladder performance Test (AS2179).
Why is the low front/high back design of the ABC Seamless Aluminium Ogee Gutters so important?
This unique design ensures that any overflow water due to blockages and exceptional rain is forced to flow away from the building over the front edge of the gutter. This ensures maximum protection of the building.
Unfortunately, the quad gutter has a high front/low back design which forces overflow water towards the building. This overflow water often results in rotting fascia timbers and damp/mouldy eaves (soffits) as water is lead back towards the building.
Why choose our Seamless Guttering over traditional stick-length guttering?
Seamless guttering consist of one continuous piece of guttering (per home side) that is manufactured by a gutter machine brought to the job site. No seams means no leaks at troublesome joints and result in a long-lasting, more rust-resistant rainwater management system.
What is the difference between ABC Seamless Aluminium and Colourbond Steel?
The primary benefit of aluminium over zincalume, be it colourbond or not, is that aluminium does not rust. Although zincalume refers to a thin coating of zinc and aluminium over raw steel, this coating is naturally broken over all horizontal edges and all vertical cut edges and corners.
Is aluminium as strong as steel?
Yes. The strength of the gutter is reinforced through a system of concealed aluminium brackets used to attach it to the house. These brackets are installed as close to 600mm as is practical making the guttering sturdy enough to place a ladder against it.
Do you service my suburb?
ABC Seamless Guttering cover the whole of the Sydney metro and greater metropolitan area, as well as the Central Coast, Blue Mountains and Wollongong.
What do I do with my old gutter?
We take your old gutter away for recycling, clean up after ourselves, and leave your home and yard as we found it.
Can I see samples in your factory?
Absolutely. We are open Monday – Friday, 8:00 a.m. – 4:00 p.m. But if you prefer not to make the trip, our estimators also bring along a full range of colour samples and brochures to all home appointments.
What does a new gutter cost?
The answer depends upon a number of variables, including access, height and your choice of material. Our estimators are happy to come and give you a free no-obligation, written quote after inspecting and measuring your property and discussing with you various appropriate options.
ABC Seamless are the gutter professionals and have successfully installed aluminium and other gutters in tens of thousands of homes in New South Wales across the span of 50 years. Contact us today for a free quote.