How do you know if it's time to replace your gutters?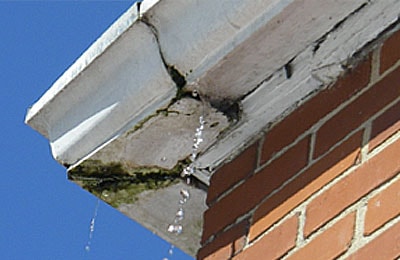 A properly installed gutter system can give you peace of mind for a long time since it will successfully operate to take water from your roof and direct it away from your house. It is for that reason that gutters play a significant role in protecting your property from major water damages.
For homeowners, it is necessary to check your gutters regularly as the risk of having gutters that need to be replaced can become worse with time. Below are a few warnings that suggest it's time for you to replace your old gutters with new gutters.
Cracks, splits, holes, rust and corrosion:
Gutters can become cracked, rusted and corroded over time, especially if the gutters have not been properly installed or consist of low-quality and inadequately finished materials.
If you have cracks, splits, holes or rust spots in areas along your gutters, rainwater will leak down your house more easily and you will need to replace the gutters to resolve any further damages.
Sagged and warped gutters:
Gutters must run close to the roof of your home. When the gutters bend, sag or pull away from your home, the gutter may become entirely inefficient or hazardous to people below.
This issue can develop due to broken brackets, blockages or age. Once the gutters become sagged or warped, the affected sections will likely need to be replaced completely.
Old gutter systems:
Steel gutters generally last 12 years and Aluminium gutters last 25 years, provided that your gutters are well maintained.
If you have not had your gutters professionally inspected, repaired or replaced within that time, your gutters are likely due for replacement.
If you have not owned your house for the duration of that period and are not sure how old the gutters are, consult with our experts to determine the likely age and current condition so that we can assess whether your gutters need to be replaced.
Interior leaks or water damage:
While interior leaks or water damage can be a complex issue to solve, in some cases, ineffective gutters can actually direct water into your eaves and inside your house (rather than through your downpipes and away from your house).
You may notice cracks, stains or peeling paint, especially near the ceiling adjacent to or immediately below your gutters. In those situations, your gutters may need to be replaced.
Water overflows the gutters:
When gutters become obstructed or blocked, water can flow over the edges rather than through the downpipes into the drain.
Overflowing gutters can also occur when the gutters begin to sag and become unattached from the house, which prevents normal water flow away from your house.
Overflowing or leaking gutters may cause stains, water damage, or peeling paint on your outer walls.
If cleaning your gutters does not resolve the issue or if you notice frequent blockages, then your guttering system probably needs to be replaced.
Puddles/pits around the foundation of your home:
Downpipes when properly installed should direct water into a stormwater drain to minimise stress and water damage to your house. When downpipes develop holes or begin to overflow, water may end up puddled around the base of your home. Those puddles could cause pits around your property.
Gutters are a part of the home which need regular maintenance and immediate replacement if they are not functioning properly.
ABC Seamless have successfully installed gutters in more than 40,000 homes across New South Wales and have been in business over 50 years.
For a free quote to replace your gutters and downpipes, give us a call on 9748 3022 or fill in our online enquiry form.